AFC SYSTEM drastically reduces the fountain cleaning time and it only takes 3 minutes to clean the whole unit. This system cleans the ink fountain and fountain roller instantly and automatically by using a film sheet that covers the fountain.

1. Cleaning the ink fountain and fountain roller
Automatically cleans up the ink fountain by rolling up the film, covering the ink fountain, by motors. At the same time, the doctor blade contacts to the fountain roller to scrape off the ink at the doctor pan, the bottom of fountain roller.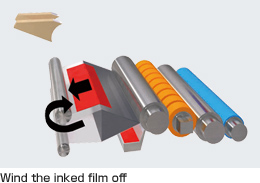 2. Side blades
Easy-to-attach/detach side blades by magnet ease the cleaning of ink fountain. The excess ink on both side of the distributing roller is brought back to the fountain roller, through the divided ductor roller, to be scraped off.
3. Operation
Automatic fountain cleaning starts by just pushing the execution button, on the touch panel.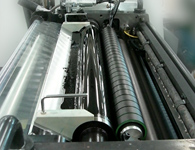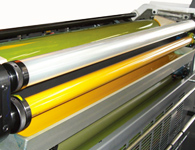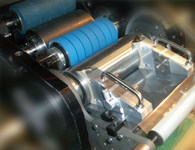 Sheet-fed press: film-covered ink fountain
Sheet-fed press: film winding section & doctor blade pan (ink scraper)
2 Piece Can decorator