"The ultimate solution that overturns conventional printing notions"
Stable and accurate ink supply had been realized by divided ductor roller, which controls the ink amount by contact length of each segment to the fountain roller, while keeping a fixed clearance between the ink fountain and the fountain roller.

1. High quality
IPC SYSTEM, with unitary resolution of 0.05%, allows producing intended printing based on the calculated ink amount data.
2. Reproductively
By saving the used data, IPC SYTEM can reproduce the accurate printings. The data can be saved not only to HDD but also to the LAN-connected AR SYSTEM, IPC SYSTEM and USB-compliant recording media thus data sharing is possible.
3. Stable ink concentration
Stable ink concentration is ensured by; 1) control of each divided ductor roller contact length, to the fountain roller, corresponding to the printing speed; 2) the principle of the fixed space between ink fountain and fountain roller; 3) scraping the surplus ink on both side of the fountain roller by using side blades & scrapers; 4) various correcting function software for continuous long hours machine operation.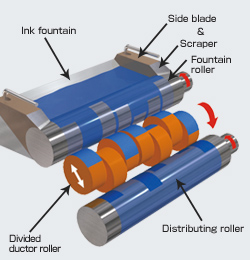 4. Reducing wasting papers
Initial ink presetting before startup greatly contributes to reduce waste paper.
5. Less emulsification
Divided ductor roller prevents overdose ink feeding which lessen emulsion by dampening water.
6. Easy operation
Accurately-controlled ink supply enables the operators to handle the system without skills.
7. Easy maintenance
Simplified roller components facilitate the maintenance.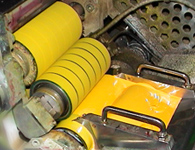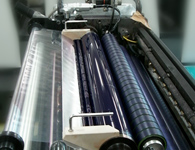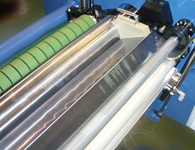 2 Piece Can decorator
Sheet-fed offset
printing press
BF offset printing press


Online Sheet fed printing color density Adjustment system
Online color density adjustment system controls and corrects color density while on printing.
Thequality inspection camera scans control strips and the system measures the color density of them and also check every printed item at the same time while working-on.
Then the system calculates the density of each ductor blade and corrects the color density value automatically to suit the standard value.
System Outline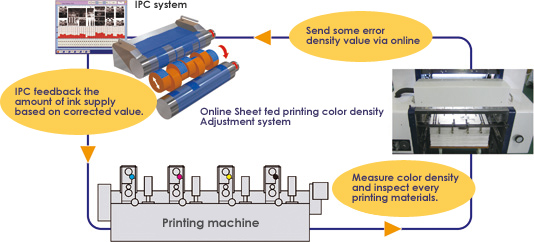 Scan the color patch and measure color density.

Inspection camera is set at the paper discharge.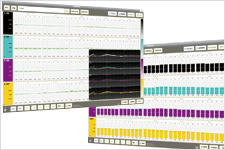 Measured color density value will show the display in real time
and corrects automatically.

The color density will be adjust automatically without manipulating by an operator in starting the job.
Automatically corrects the color density if the graph data has changed while on printing.
Scan all the control strips and feedback its data to IPC.