The World's first --- Challenging for full automatic ink feeding
Our J-Color System had been developed for complete automation of ink feeding and fountain cleaning. We are also challenging for further development to meet increasing needs of environmental and cost-saving solutions.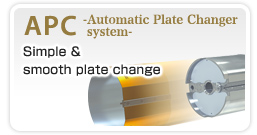 Reducing time and workload
APC (Automatic Plate Changer) SYSTEM is a new system to change plates without removing heavy cylinders. This contributes to lessen a time and cost.